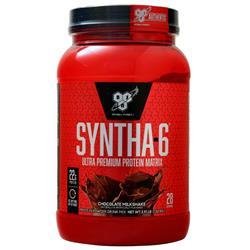 Syntha-6 is indeed an ultra premium protein powder that comprises of 22g protein per serving and tastes delicious as well. This protein formula is perfect for any nutritional or exercise regimen since it's designed expertly to suit a broad variety of diet plans and active lifestyles. Now Syntha-6 is available in over 10 tasty flavors such as chocolate, vanilla, strawberry, banana, and cookies and cream. Syntha-6 truly gives you a real milkshake experience. There are 28 servings in each 2.9 lb container with only 2-3g of sugar per serving. It also comes in 5lbs and 10lbs at a reasonable price.
Ingredients
Whey Protein Concentrate, Whey Protein Isolate, Calcium Caseinate, Micellar Casein, Milk Protein Isolate, Egg Albumen, Glutamine Peptides, Polydeytrose, Sunflower Powder, Natural & Artificial Flavors, MCT Powder, Lecithin, Cellulose Gum, Salt, Vegetable Color, Sucralose, Acesulfame Potassium, Papain and Bramelain
Directions
As a dietary supplement, take 2 scoops (or 44 grams of protein) with 8-10 oz of cold water or any beverage. Use about 4-5 oz of liquid per 1 scoop of powder. Vary the quantity of liquid to satisfy flavor and consistency. Drink 2-4 servings daily, or as needed to meet your protein or muscle-building requirements.
As a dietary supplement, take 1 scoop with 4-5 oz of cold water or any beverage. Vary the quantity of liquid to achieve your desired flavor and consistency. Drink 2-4 servings daily, or as needed to fulfill your protein or body-enhancing requirements.
Syntha-6 FAQ
Q: What does Syntha-6 do for you?
A: It's a supplement used to increase the amount of protein in your diet. BSN designed it to help you develop lean muscle and recover after each workout.
Q: Does Syntha-6 help you gain weight?
A: It's a superior option for anyone wanting to gain weight. Packed with protein and calories, Syntha-6 is perfect for bulking up.
Q: Is Syntha-6 a whey protein?
A: Each serving provides a 22-gram protein matrix that consists of whey protein concentrate, whey protein isolate, calcium caseinate, micellar casein, milk protein isolate, and egg albumin.
Q: Is Syntha-6 a meal replacement?
A: Yes.
Q: Does Syntha-6 contain creatine?
A: No.
Q: How much Syntha-6 should I take daily?
A: Drink 1 to 4 servings daily, or as required to meet your protein or muscle-enhancing requirements.
Q: How does Syntha-6 taste?
A: The high protein drink tastes delicious.
Q: Is Syntha-6 vegetarian?
A: There exist excellent options for both vegans and vegetarians.
Q: Does Syntha-6 have caffeine?
A: Each 10.5 gram serving contains 325 milligrams of caffeine.
Q: Does Syntha-6 have BCAA?
A: It contains 5 g of BCAAs.
Q: Is Syntha-6 good for women?
A: Yes, if you need a high-quality protein supplement to support muscle building.
Q: Is Syntha-6 keto-friendly?
A: No.
Q: What's the best way to prepare BSN Syntha-6?
A: Syntha-6 tastes extremely good when mixed in a blender with milk and banana.
Q: How many flavors does Syntha-6 come in?
A: Vanilla Ice Cream, Chocolate Cake Batter, and Chocolate Peanut Butter
Q: When is the best time to take Syntha-6?
A: Taking Syntha-6 before workout provides better results than post workout.
Q: Can I drink Syntha-6 shake without working out?
A: Yes, on your rest days without adverse effects.
Q: Can you still gain muscle by only drinking Syntha-6 protein shake?
A: No. Your body also requires resistance exercise training to build muscle.
Q: How do I know if my Syntha-6 is real?
A: Check the importer seal. Moreover, to avoid getting a fake Syntha-6 product, only order it from online retailers like Vitacost and iHerb, and not from Amazon where many merchants sell counterfeit products.
Q: Is there a coupon code I can use when ordering Syntha-6?
A: Yes. Below after the last customer review, you'll see a coupon code; apply it at checkout to save 20%.
Honest Reviews from Genuine Customers
Bobby shares: "I'm an athletic/average college student. I've tried many protein brands, and this is the best-tasting and most nutritious one I've ever had. It instantly blends with milk or water and tastes like a milk shake. It tastes amazing. It can also be used as a meal replacement. It has essential amino acids, protein, fiber, and I use this as my breakfast every morning mixed with a glass of unsweetened almond milk."
Samantha shares: "I bought this because it was one of the more highly rated flavors of protein powder out there. You still know you're drinking protein powder if you drink it with no other add-ins, but it's not gross like many other powders."
Armando shares: "I've been using this product since the beginning of 2017. So I've been using it both before and after the label change happened. It tastes the same to me and still super refreshing after an intense workout. I even make peanut butter protein shakes with this and they taste amazing. Product is great and to be honest, I'll probably keep buying it for a long time until I see an issue."
Bruce shares: "Bought the 48 serving size of banana. It is outstanding for taste and texture when mixed with other fruit/veggies in a smoothie. I am super glad I got my first batch and looking forward to others. A+."
Adrienne shares: "I've now had 3 bottles of this protein powder, and I love it. If you're doing any kind of muscle building or weight training, this will help ensure you get the protein you need without having to overstuff yourself. I can say without a doubt it has improved my recovery times and allowed more training, which has improved my results. This was recommended to me by a co-worker and it has lived up to its reputation in my opinion. I will be continuing to purchase this on a regular basis and would recommend it to anyone."
Jason shares: "As long as you strictly put in the recommended ratio of milk to powder, it will always taste like a nice, thick, chocolate milkshake. And by the way, do not use water if that's your intention with this product. Just don't, unless you're a maniac; no one likes chocolate water..."
Lyndsey shares: "Holy crap this is delicious. I am extremely picky about protein powders and I have gone through so many to try and find ones I like. This is definitely a top choice. I got the banana. It tastes like a banana milkshake. No weird aftertaste, no fake sugar taste. Just delicious. I tried it with milk in a shaker bottle and it was very good."
Steve shares: "I've taken Syntha-6 on and off over the years. Nice blend of protein that caters to slow and fast digestion."
Ashley shares: "I am not a fan of protein powders at all. Never have been. But I really want to lose some weight, and I decided to take a leap with this peanut butter cookie flavor. It's so good when I'm having a snack attack or a sweet craving. Thank you."
Anthony shares: "This tastes so good it's hard not to drink it when you haven't worked out. I prefer to blend mine up for the smoothest quality. I will say, don't make the mistake I made and try to make your own portions."
Tom shares: "I have bought Syntha-6 four times now over the past year. No doubt the best tasting protein powder there is. It mixes extremely well and there are no clumps. Excellent recovery (lots of BCAA's) and great results."
Where to Buy
Order BSN Syntha-6 for less at iHerb.
To receive 20% off, apply the following coupon code at checkout:
FGI5183
https://www.iherb.com/pr/bsn-syntha-6-ultra-premium-protein-matrix-chocolate-milkshake-2-91-lb-1-32-kg/24854