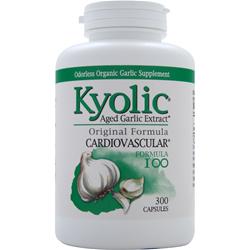 Top 9 Benefits
Cardiovascular formula #100 provides the following benefits:
Lowers glucose levels

Improves arterial rigidity

Decreases inflammation

Enhances gut microbial profile

Reduces blood pressure

Lowers LDL cholesterol by 10% in hypercholesterolemic men, according to a recent intervention study

Supports healthy circulation, immune and liver function

Helps in combatting fatigue and stress

Inhibits CAC progression.
Formula #100, an original odorless supplement, begins with 100% organically grown garlic bulbs in California before they are aged to exacting perfection in a special extraction process. The product is organic, gluten-free, non-GMO, and comes in 300 capsules/tablets at 600 mg.
Ingredients
Aged Garlic Extracta Powder (bulb), Gelatin, Whey (dairy) and Magnesium Stearate (vegetable source) whey derived from milk
Side Effects
There are no known side effects associated with this supplement, except occasional gas, because Kyolic uses a proprietary garlic aging process that ensures the elimination of terrible side effects.
Recommended Dosage
Take 2 tablets/capsules twice daily with food.
FAQ
Q: What is Kyolic Aged Garlic Extract good for?
A: It stimulates detoxification, helps to protect the liver against oxidation-induced diseases, and the health benefits mentioned above.
Q: What's the difference between ordinary garlic and aged garlic extract?
A: Aged garlic had a higher total phenolic content compared to fresh garlic extract.
Q: How long does it take Kyolic garlic to work?
A: Within 2 to 3 months of continuous use.
Q: What are the side effects of Kyolic garlic?
A: Breath and body odor, upset stomach, or heartburn might occur.
Q: When should I take Kyolic garlic supplement?
A: In the morning and on an empty stomach.
Q: Can aged garlic harm the liver?
A: Only at very high doses may aged garlic cause potential damage to your liver.
Q: Does aged garlic lower cholesterol?
A: Aged garlic lowers serum cholesterol levels in humans and experimental animals, according to a study.
Q: Does aged garlic thin your blood?
A: It's known as a blood thinner because of its anti-platelet properties.
Q: Is aged garlic good for your heart?
A: Yes; it helps combat atherosclerosis (hardening of the arteries) and even prevents heart attacks and strokes by dissolving clots.
Q: Does aged garlic remove blood clots?
A: According to a 2018 study, garlic powder shows antithrombotic activities in rats. An antithrombotic agent is a substance that reduces blood clot formation.
Q: Does Kyolic aged garlic have interactions with medications?
A: Yes. It may interact with drugs that prevent blood clots like warfarin.
Q: Can I take Kyolic aged garlic while pregnant?
A: Yes. But it may be a good idea to consult your doctor first.
Q: Who shouldn't take aged garlic?
A: Anyone suffering from gastroesophageal reflux disease.
Q: Is Kyolic aged garlic vegan?
A: It's both vegan and vegetarian.
Q: Is Kyolic aged garlic keto-friendly?
A: Yes
Q: Is Kyolic aged garlic good for inflammation?
A: It has the potential to lower inflammation.
Q: Is there a slim chance I may order a fake Kyolic aged garlic supplement?
A: Yes. But you can avoid this possibility by shopping at online retailers such as Vitacost and iHerb. But Amazon has merchants who sell counterfeit health products, according to customers complaining in their reviews.
Q: Is there a coupon code I can use when buying Kyolic aged garlic extract?
A: Yes. You'll find a coupon code below after the last customer review. Be sure to apply the coupon code at checkout to save 20% on your order.
Honest Reviews from Real Customers
David shares: "I have been fighting high BP for 2 years since I had bypass surgery. My BP has been constantly in the 150/88 range, sometimes much higher, with many different dosages and different meds from the doctors. They just couldn't get it down. After taking this garlic a little over a week, this morning at the doctor's office my BP was 114/78. Let me repeat. 114/78. They took it twice just to be sure. I will be using this product from now on. I feel so much better."
Joel shares: "Been taking Kyolic garlic for 1 yr and 4 months. Happy to say my blood pressure is at 128/74 last time I checked with doctor. No extra prescription medicine needed. I was shocked."
Marianne shares: "Excellent product. Lowers my cholesterol 20-30 points. I get medical tests quarterly and this has proven to be the case every time."
Felicia shares: "I ordered these to help lower my blood pressure which was 140/100. After a few weeks my blood pressure was on the average of 126/77. I only take 2 pills daily."
Angel shares: "I bought this for immunity, but an added plus--it lowered my blood pressure from 120/80 to 93/60. I watched my blood pressure go down a bit each day and it seems to have leveled out in the 90s over 60s. I noticed my tinnintus is almost gone too."
Aratay shares: "I have high cholesterol that is genetically inherited. I've had high cholesterol all through my 30s, and at my last doctor's visit, he mentioned the dreaded word 'statins.' I decided to really look for something to help me lower my cholesterol. I started taking this supplement daily. I just got my yearly lipid panel and imagine my surprise when my cholesterol went from 224 mg/dL to 167 mg/dL! And my triglycerides went from 130 mg/dL to 98 mg/dL. I still need to work on my HDL cholesterol. But I can only attribute the improvement to this supplement since it's the only one I've taken religiously."
Anna shares: "I am over 60. I started taking Kyolic Cardio Formula years ago to lower my blood pressure. As long as I took it faithfully, my BP was 115/65."
Sally shares: "I have uncontrolled high blood pressure, heart palpitations and auto-immune disorder. This formula helps greatly. I take it everyday. Wouldn't be without it."