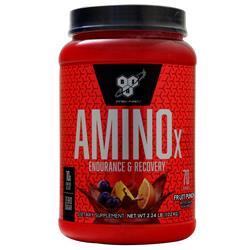 BSN has formulated a special powder that delivers a quick nutritional shake loaded with important amino acids for everyone needing a serious boost of energy, faster recovery time from intense workouts, and for an excellent way to get protein that your daily diet may not supply enough. This product is keto-friendly, caffeine-free, and comes with 30 and 70 servings in Fruit Punch, Blue Raspberry, Grape, and Watermelon flavors at an affordable price.
Ingredients
Amino Acid Interfusion (Micronized BCAA Blend [L-Leucine, L-Valine, L-Isoleucine], L-Alanine, Micronized Taurine, Micronized L-Citrulline), Efforsorb EndDura Composite (Citric Acid, Malic Acid, Sodium Bicarbonate Cholecalciferol), Natural and Artificial Flavors, Silicon Dioxide, Lecithin, Sucralose, Beet Color, FD&C Red #40, Acesulfame Potassium
Directions to Achieve Greatest Results
Mix 1 scoop with 6 oz of cold water or other liquid before, during, or after your workout. Stir and drink at once to prevent settling. To achieve maximum results, wait 20-30 minutes after taking Amino X before eating a meal or drinking a shake. To further maximize the effects of Amino X, consume 120 oz of water daily and a diet rich in carbohydrates and protein.
FAQ
Q: What does BSN Amino X actually do?
A: By delivering vital branched chain and essential amino acids, it supports endurance during your workout and helps with muscle recovery after each workout.
Q: When should I take Amino X?
A: It's best taken during exercise to provide working muscles with the nutrients needed to perform at their peak. But you can take Amino X before, during, or after each intense workout.
Q: Does Amino X cause any side effects?
A: Mild side effects you may experience temporarily are nausea and a headache in the beginning until your body builds enough tolerance.
Q: Does Amino X contain any stimulants?
A: No.
Q: Is Amino X vegetarian-friendly?
A: It's both vegetarian and keto-friendly.
Q: Is Amino X keto-friendly?
A: Yes
Q: Does Amino X have calories?
A: There are zero (0) calories in 1 level scoop.
Q: Does Amino X have interactions with medications?
A: It may interact with antidiabetic drugs by lowering blood sugar levels.
Q: Can I take Amino X without working out?
A: Yes
Q: What flavors does Amino X come in?
A: Blue Raspberry, Fruit Punch, Grape, and Watermelon
Q: Can Amino X cause you to gain weight?
A: No
Q: Is there a chance I might order a fake BSN Amino X?
A: Yes. But you can avoid that possibility by shopping at online retailers such as Vitacost and iHerb. Amazon has merchants who sell counterfeit health products, according to customers complaining in their reviews.
Q: Is there a coupon code I can use when ordering Amino X?
A: Yes. Below and after the last customer review, you'll find a coupon code. Be sure to apply the coupon code at checkout to receive 20% off on your purchase.
Reviews from Real Customers
Nicole shares: "I've tried dozens of aminos and keep coming back to this brand. This brand by far dissolves the easiest, tastes the best and doesn't dye my mouth with disgusting colors. I actually do feel like this one contributes to a faster workout recovery and immune protection. I drink this consistently throughout the winter and find that I'm more resistant to the sicknesses that go around the office."
Chris shares: "This product is perfect for me. I'm new to the supplement world but I'm getting back into running in my mid 30s now. I really feel like this gets me re-hydrated. It has salt and potassium along with BCAAs. I have the watermelon flavor and it tastes great. This drink is something I truly look forward to after I run."
Beth shares: "I decided to go with this one and I'm glad I did. I noticed a huge difference in my stamina during workouts and the level of soreness post workout. Two year gym hiatus due to multiple back injuries, I was practically bed ridden after the first week back. Now I take this twice a day before and after my workout and I can actually move the next day without swearing/limping/looking like an extra from The Walking Dead. One of the main perks of AminoX is it's stimulant-free. No dizziness or stomach aches whatsoever."
Terra shares: "This is my go-to recovery drink. Whether training for a half or full marathon or completing a long bike ride, I make sure to drink this immediately following to prevent cramping and soreness."
Stan shares: "I haven't taken supplements in years, but started up a few months ago with this post workout recovery. I can't specifically say that this product is the best one on the market, but will say I haven't felt more energized and less tired after working out daily in years! I'm 45 and started a daily workout of weights and running with my 15 year old son and this recovery shake has helped me keep focused on the routine and less about the recovery. How do I know this? I ran out last week and the harsh reality of recovery without this product hit me. I just ordered more. If it ain't broken, don't fix it! I'm staying with this product."
Phil shares: "I have worked out for years, but I must say at age 55 I'm building muscle and the only change in my diet is the addition of these amino acids. I'm getting stronger and bigger and I have to give credit where it's due. I believe this product works, and I've tried many."
Julian shares: "Does what it says it is supposed to do. I took this after a fairly intense workout and again after an intense run and I definitely felt the difference from when I would try to recover by just resting. This definitely gave me a bit of a boost but also made me feel less sore the next day. I would highly recommend this for runners or for those of you that get sore after workouts. This can also give you a good boost of energy to get you through a workout."
Myles shares: "I am 50, play in competitive soccer league on Sundays and every Monday and Tuesday I can hardly walk. I have tried so many supplements to ease the pain (mostly legs, feet) and am amazed how well this worked. Same on days I work legs hard at gym. Tastes great as well. I drink 3 large glasses on ge day, before, during, after, and 2 on workout days. For the price it is a steal even if you only properly hydrate with this."
Nick shares: "This is great stuff. I try not to take pre workout, so I take a scoop of this mixed with water 30-40 minutes before workout (along with a small snack like Greek yogurt, granola, and a banana) and I feel great during my workout. I've also used it during my workout which I feel helped on more difficult workouts. Overall worth the buy."
Where to Buy
Buy Amino X for less at iHerb.
To receive 20% off, apply the following coupon code at checkout:
FGI5183
https://www.iherb.com/pr/bsn-aminox-endurance-recovery-watermelon-15-3-oz-435-g/38999